Her Interactive increased website traffic and increased conversion, acquiring highly qualified shoppers through referrals
Her Interactive already had a plan when they looked for Social Annex. They wanted to increase engagement among their loyal and very social customers, by giving them a platform to get involved with and advocate for the brand.
Social Annex's Contest solution not only reengaged existing customers, but it also brought in loads of new highly qualified shoppers who were referred by these existing customers.
Download our case study and discover how:
Her Interactive got 800 referral orders in just a month'
In just a month, Her Interactive's contest had more than 10,000 unique entries
Her Interactive acquired valuable social graph data from the contest entries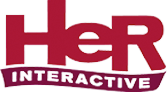 About Her Interactive
Her Interactive is a premier developer and publisher of mystery adventure video games.