How 3balls.com was able to boost site traffic, increase user engagement and acquire highly qualified referrals
When 3balls.com came to Social Annex, they wanted help in leveraging their social presence to increase customer engagement and also wanted to monetize their social channels.
After partnering with Social Annex, 3balls implemented Facebook Contests and Share & Save solutions that built up engagement with current customers and encouraged them to discover new products.
Download our case study and discover how:
Share & Save reached over 400,000 customers in less than six months
3balls.com had $75,000 in incremental revenue
3balls.acquired valuable customer data and was able to identify their top influencers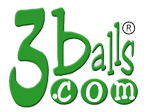 About 3balls.com
3balls.com is a multi-channel retailer specializing in the sale and acquisition of new and used branded golf equipment.